Image Abstraction
Ian Davies (9 May 1954 - 2 October 2003) was a marvellous flamenco guitar player and a great teacher. It was tragic that he should die so young at the age of only 49.
There is not much information about Ian on the Internet, and we thought it would be a good idea to publish some of the material that still exists, so he will not be forgotten.
1969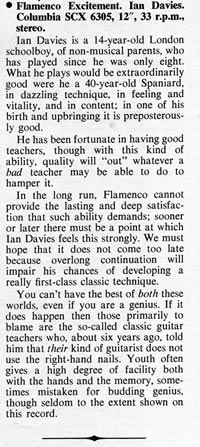 Ian Davies Review of his record in BMG Magazine February 1969

Ian Davies in BMG Magazine July 1969

Front cover Cover Artist Review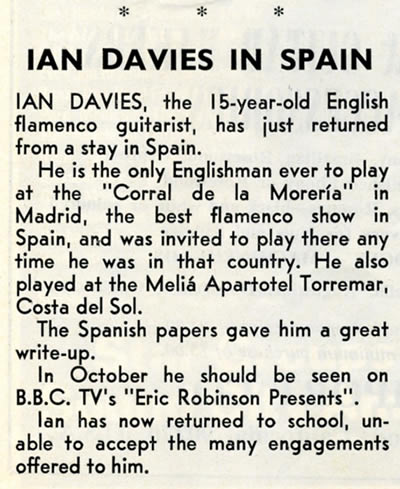 Ian Davies in Spain BMG Magazine October 1969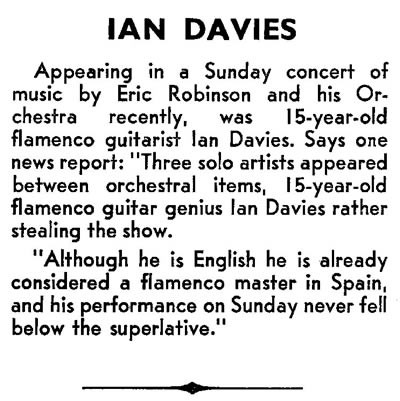 Ian Davies on Eric Robinson Show BMG Magazine October 1969
1970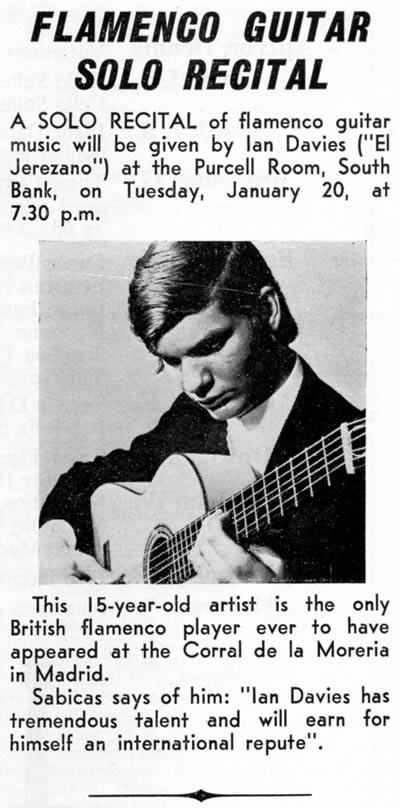 Ian Davies Purcell Room Recital BMG Magazine January 1970

John Duarte's review of Ian Davies Recital, in BMG March 1970
1985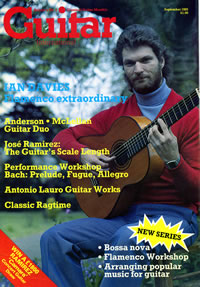 Ian Davies on cover of Guitar magazine September 1985


September 1985 - Ian Davies talks to Paul Magnussen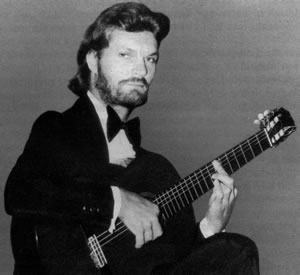 Guitar International magazine September 1985

NB: This conversation can be downloaded as PDF here

"What he plays would be extraordinarily good were he a 40-year-old Spaniard, in dazzling technique, in feeling and vitality, and in content; in one of his birth and upbringing, it is preposterously good."

Thus spake Discus, in February 1969's B.M.G., of Ian Davies's record Flamenco Excitement; Ian was then just 14 years old.

The next I heard of Ian was his remarkable Wigmore concert in April, (reviewed July issue) merely one event in a remarkable career.

While still at school, he was playing three nights a week at Antonio's Restaurant, in Covent Garden. At 16, following a recommendation from Serranito, he went to live in Madrid, to work at the prestigious tablao, Café de Chínitas. There followed ten years' performing and touring with some of the best artists in the business. With Serranito (Victor Monge) and Luis Pastor, Ian toured Italy, Spain and America, appearing at Carnegie Hall and Alice Tully Hall in New York. Together with Luis Carmona ('Habichuela'), José Ortega ('Manzanita'), and Felipe Maya they recorded on the Hispavox label.

Ian has also toured the world with the El Camborio, Siluetas, Antología and Maria Rosa Ballet Companies, and recorded his own compositions on the Hispavox and Amenecer labels. He has also recorded a Flamenco programme for Radio 3's Music for Guitar, scheduled for June.

"I got interested by accident, just before I was nine. I was crazy about the Beatles, as everybody else was at that time, and wanted to be like George Harrison. As it happened, a schoolfriend's mother was Spanish, and she played a bit of flamenco, a bit of regional music, some light classical … and my friend was starting to learn with her. So we started together, and it was very convenient."

Had Ian had any other teachers?

"I met Pepe Martinez here in England. He teaches by sending over tapes with sheet music in cifra. He would play very slowly through different falsetas, or complete pieces; that would be accompanied by the cifra on paper, and any comments spoken on to the tape. So for some time I was receiving these tapes from him, from all parts of Spain (because he'd be on tour, and he'd be recording these tapes in hotel rooms).

I went to Paco Peña for a while as well, for more material; because I was only picking stuff up from records, I wasn't having any personal, visual contact with any other guitarist."

However good a performer may be, it's not everyone who gets the chance to make a record, especially at that age.

"I don't know exactly how it came about, I was too young to be aware of that, to tell you the truth. But there was a record-shop owner in Hackney, and he'd heard me play somewhere or other. He arranged an audition for me at EMI with a friend of his called Walter Ridley, and immediately they wanted to make an LP. So I recorded this album for Columbia.

"Around that time I was playing at Antonio's in Longacre three nights a week (because other nights I had to do my homework). I left school straight after my O-levels, with the idea of studying Spanish and Music for A-level; but rather than spending two years doing it at school, I'd do it at home, privately, in one year.

"So I started doing that, which of course gave me the evenings free, and I was full-time at Antonio's. And I'd only been doing that for a little while when Victor's (Serranito's) concert was on at the Queen Elizabeth Hall. I already knew him through a mutual friend, a dancer called Juan Quintero, and he stayed at my parent's house when he was here. It was then he mentioned to me that there was a vacancy at the Café de Chinitas for a guitarist; and that if I was interested he could give them a quick phone call and ask them to hold the place for me, if I could go straight over.

"It was obviously an opportunity not to be missed, because the only way I was going to progress any further was to live and work in Spain. So it took about two weeks and then I was over there. I started on November 1st 1970: I remember I was just capable of not putting my foot in it, I mean I wouldn't go out of compás or anything."

The Café de Chinitas in Madrid is of course not the same as that of the same name in Málaga at the turn of the century, celebrated in the Lorca song; none the less, it is well-known in its own right.

"When it opened (which was three months before I started), it was surely the best tablao in Madrid. It was so fresh then: they'd gathered the artists they wanted under the direction of La Chunga and Tomás de Madrid. It was very well attended, because it was a very high-quality tablao, with the restaurant offering a four- or five-fork meal. The audience was mainly aficionados who would have an expensive dinner there, not people just wandering in for a drink."

I hadn't seen Ian since I met him at Paco Peña's house, in the late 60's, when he was still a schoolboy. I invited him and his Spanish wife Beatriz over for a relaxed afternoon, with the formal interview sandwiched somewhere in the middle; but we ended up taking the whole day, going to a South Bank concert together and finishing at my place at 3 o'clock in the morning. One of the most interesting things we had to talk about, and one on which Ian was able to offer a unique perspective, was the problem of trying to learn flamenco in a foreign country. I asked Ian if, when he arrived at Chinitas at the age of 16, he found that his style was different from the other guitarists.

"In some respects it was downright wrong, I was playing things upside down. It's only when you start sitting next to people who know what they're doing, and watching them, that you realise when you're finishing on an up-stroke they're finishing on a down-stroke. There are little details like that, that make you think 'I wonder why that is?' After a while you start drifting into the way they do things - especially in the cuadros, where you've got eight girls all giving palmas, and it's all very boring, let's say (it's not boring when you start, it's after a year or two, doing the same thing every night - alegría, soleá, alegría, soleá, rumba, alegría, soleá …).

"In some respects flamenco is open enough that you can do things your own way, that's the nice part about it; but only to a certain extent. There's a moment when if you do things differently, in your own personal style, it just doesn't sound right - and that's when it's wrong."

Ian should know: he has been first guitarist for ballet companies, composing all the arrangements himself, teaching them to the other guitarists, and working on the choreography with the dancers. But of course, outside Spain, many people have no choice but to learn from books and records.

"You can learn guitar solos, of course. And the Japanese copy the singing when they don't even speak Spanish. I've heard Japanese players that are in Spain for the first time, they play these Paco de Lucía solos that they've lifted from records, and they do it very well. But I don't think that's the important thing about flamenco - the guitar solo is the last station on the line. It's the knowledge all the way from the beginning of the line that you need, to be able to make up a guitar solo for yourself, and for it to be right.

"These people are trying to run before they can walk. For the foreigner who starts with Lucía's music, it's too advanced, he's missing why and how it's arrived at. You need something more basic, to get your compás right, and the knowledge of flamenco. So people should go back at least as far as Sabicas - Ricardo, too, but Sabicas stuff is crystal clear.

"Lucía's stuff is too advanced, and there are so many notes, and the compás is too syncopated. It's not just outside, the majority in Spain are copying Lucía, have been for years; and I feel sorry for them.

"A perfect case that comes to mind is Manzanita. He was sixteen when he started at Chinitas, and it was incredible. You'd sit and listen to him, and his picado would be as fast as Paco's, and with all this ease – he'd just sit back and laugh, and do these incredible runs, falsetas, anything, and sound just like Paco, and it was all a joke to him. But that was his problem, he'd sound too much like Paco. And next day he'd come along and say 'listen to this new falseta I've just worked out!'; but it didn't say anything, because it might as well have been another of Paco's falsetas off his latest record.

"Paco's material was copied by all the artists, especially the younger generation. Within professional circles, he was the best. But with him, and with Serranito, too, I found that it was too difficult for the average professional, although they'd want to copy it. In Chinitas, I remember very often, other guitarists would say 'show me this one', and Víctor would start to show them the falseta: but it would become too complicated in the left hand, and they'd give up. Or, they'd try and simplify it and it would lose half its meaning."

Ian says he has never taken actual lessons from Serranito, although obviously he has been very influenced by him.

"I was on holiday in Spain and he invited me to his house. I played him some of his own material that I'd lifted from his records, and he repaired it for me. But mostly it was just being around him. It was through him that I went to work at Chinitas. And he took personal responsibility for me, as I was only sixteen years old: I lived in his house until I found a flat, and I was in his trio, and so forth. It was hearing so much of him, rather than going to him for lessons.

"I don't think he's being appreciated as much as he ought to be. It's the sort of thing that people are going to cotton on to when it's too late for him - he should be recognised now, not when he's ninety."

I suggested that he was unfortunate to be in the shadow of Lucía - especially since some smart person mixed the latter with John McLaughlin and Al di Meola and captured the American market. We agreed that the turning point for Lucía was Entre Dos Aguas.

"The funny thing is though, that Entre Dos Aguas was just a fill-in track to add a couple of minutes to an LP. Apparently (although I don't know this from the horse's mouth), it was a melody he picked up while he was in Brazil, from Baden Powell or someone, and he was just improvising on that simple little melody, and they put it on the record just to fill up space. But Philips loved that track more than any other, and put it out as a single, and that was it.

"But I feel sorry for Serranito, because he must wonder himself, why can't I get going? Lack of management, maybe, I think that's mainly what it is. I know he's not good at selling himself, so he needs a manager behind him."

Serranito's like all flamenco discs, are hard to get in this country, though the London Guitar Studio sometimes has them. Like Manolo Sanlúcar and Paco Cepero, Serranito appears to have jumped on the bandwagon of making records with orchestras. For myself, I have considerable reservations about this sort of thing, so I asked Ian which of Serranito's albums he would recommend.

"Cepero's a very good businessman in his own right. But with Serranito, it's not his idea, it's CBS's, and he's gone along with it. He doesn't write the orchestral part or anything, he just does his flamenco piece, and they add the orchestra."

"I would recommend the first four records, in that order. They were all way ahead of their time when they carne out. But you don't usually see them in this country."

The difficulty of finding flamenco in England, or anywhere else outside Spain, is obvious; but there are some curious side-effects. In particular, whereas for the real flamenco their music is a relaxation (or at least a livelihood), for some foreign aficionados it becomes almost a religion, with them trying to be more Spanish than the Spaniards. Tweeness, cattiness and more-flamenco-than-thou attitudes are also not unknown. Ian had noticed this too, and offered some additional remarks.

"There's definitely a thick line between guitarists in Spain and those outside, there's a river that needs to be crossed: not just technically, but in the attitude and the understanding of flamenco. The number of notes you play isn't important: it's playing the right note, at the right time, in the right way."

"I've got friends in Madrid, and sometimes a player will come in, from England or Australia or whatever, and play us a marvellous falseta por Solea, or something. And we'd say, Yes, it's really nice. Then they'd say, Do you want to learn it? I'll show it to you."

"And that's a good indication of the sort of attitude. In Spain, among professionals, no-one teaches anyone anything - you're not interested in learning a new falseta. You'll listen to it, and if you like it, good. What sticks in your head might be regurgitated later in something you do, or that you throw in when you're just playing for dancing: but to learn a falseta to play on stage is not done. And of course it is done here in England. There's a lot of repeating.

"I've found that gypsies, in particular, are almost incapable of learning a falseta the way it's shown to them. When Victor had his six guitarists accompanying him at Chinitas, I think four of them were gypsies. He'd show them the notes needed to accompany his piece, and of course they had to be played right, you couldn't play a G sharp for a C natural. But it's so difficult for them to learn anything note-perfect, they'll learn the spirit of it and then do it their own way."

"A tablao is a very important place to be, not only because of the other guitarists, but equally for the dancers and singers. You're around an older player who may be 60, and then a 16-year old, all playing different styles. So you're bombarded with different styles from all angles, and you pick up what you want. For the foreigner, this is what is lacking; and this is why he doesn't get to the stage of saying I'm not interested when a pretty new falseta comes along. Over there you're hearing it so much. In your spare time you listen to jazz, or go to the races or something. Here, you come home from the office and listen to your flamenco records. You never get to the stage where you just don't want to hear any more flamenco, where it becomes a trade, where you go to a tablao, do your job, and want to get out as soon as you can. And it's only then, when you're fed up with it, that you can start learning."

I told Ian that I was glad to see he didn't assume a fake Spanish name or accent in this country, like some people I could think of. He told me an amusing anecdote of a friend of his who changed his name by deed poll to Manolo Seguro, only to find, not only that there were already a singer and a dancer of that name, but that all the Spaniards called him Max.

"It shouldn't really matter what your name is or how you speak - it's what you do, in the end. I don't think it's necessary to change your name. O.K., if you're playing flamenco music in England, you change your name not only because you want to try and convince yourself that you're Spanish; but because if you're going to do it publicly, you're thinking about your audience. And of course, there will always be a percentage of people that think, Well, if he's not Spanish, he's not going to be able to do it authentically. So you've got either to miss a few heads in the concert hall, or play a game.

"The Spanish don't care what your name is, I can assure you. It's the English that are uptight about it, the Spanish don't care. If you're one of them, you are, and if you're not, you're not. They call me El Niño de la Niebla (the boy of the fog) because I'm from London."

Ian Davies Flamenco Workshop
in Guitar International magazine
September 1985 - Introduction - (PDF available here)

October/November 1985 - Soleares - (PDF available here)


December 1985 - Ian Davies comments on his recent holiday in Spain
(Also available as a PDF here)

It was my intention after last month dealing with the soleá, to go on to alegrías, but I have recently returned from my holidays in Spain and think it would be interesting to comment on my findings there.

The prime reason for my journey is (like many other typical British holiday makers) to sit on a beach for a couple of weeks and do absolutely nothing, but I always spend a week in Madrid after that to see friends, etc.

On the day subsequent to my arrival, I was at breakfast time scanning the wavelengths of my radio to find a flamenco programme which was a regular broadcast, six days per week between seven and ten in the morning: it seems like a ridiculous time of day for flamenco, but I suppose it is pushed into that spot as it is technically of minority interest: nevertheless I was surprised to find so much regular air time given to the subject, although it was a local station of Málaga within the flamencoland of Andalucía. Their time would be used to play back recordings made live at the large flamenco festivals which are presented by local councils, as well as the smaller events promoted by the Peñas Flamencas (a sort of club for enthusiasts); also interviews with artistes and a selection of tracks from records, often interesting old ones. One must remember that the bulk of interest is directed towards the singing, whereas out of Spain it tends to be pushed into the background!

The quality of the Festivales de Cante tends to be high with only the big names engaged, but unfortunately the same (or very similar) selection of singers seem to perform in all the festivals around Andalucía, excluding many others well worthy of a place. (I know this has a lot to do with being friendly with the right person). This is even more so in the case of the accompanying guitarists, there are possibly only three or four that do all the work.

One point that is worth taking into consideration is that, politically, Spain in the last couple of years has been divided into autonomous regions, so in respect of flamenco, when Andalucía needs artistes, they are taken from their own residents (to a greater extent than before), but one uncomforting comment I have heard is that when Madrid wants flamenco they have been known to ring Seville!

On a smaller scale than that of the council-sponsored events, the "Peñas" organise their shows. Many towns, even villages, have their own clubs where aficionados can meet and often provide their own entertainment. It was during one of the radio programmes that I heard that the Peña Flamenca of San Pedro Alcántara would be holding what they call a Gazpacho Flamenco which is in fact a flamenco evening with the cold soup called Gazpacho, served. For want of anything better to do that evening (and also out of interest), I thought I would go along. I did wonder if it would only be open to members, but the fact that it had been announced on the radio and nothing said about that, convinced me to go anyway. On arrival I found that one did have to present a membership card (of their Peña or any other) but after a short chat with the chairman who was an amateur guitarist, and offering to accompany any of the singers if he should so wish, we (there were four of us) were allowed in.

The extent of his hospitality was felt when I realised that the Gazpacho, as well as a plate of Callos con garbanzos, bottles of Sherry and glasses of Sangría were automatically served to everyone, the cost of which, to be hopefully recuperated during a raffle. There was a very family-like atmosphere, the food having been prepared there in enormous pots by some of the members themselves whose children were running around the tables playing, all out on a pebbled patio with a stage at one end. After a little while, the club's chairman came onto the stage (switched off the cassette-tape flamenco which had been going) and welcomed us all, pointing out the fact that they had amongst them, four guests from foreign lands (I was the only non-spaniard), one of which was a guitarist from "Germany or Norway". I'm used to this now; Norway is a new one for me, usually after telling them that I'm English, they call me American or German. It's a bit annoying, but I suppose the same happens when English people confuse Spanish with Mexican or Italian.

The evening's entertainment commenced with a half a dozen little girls all dressed in costume, dancing a few steps of Rumba each. One in particular stood out as having a natural talent, seen in her body movements and her grasping of the small details which gave her real Gracia. They were accompanied by the club's chairman who sang as well as played his guitar. After that, singing members of the Peña were invited onto the stage, one by one, to "do their bit" and here I found to my surprise that they all would sing either malagueñas, media granaínas, fandangos or tientos; there was an uncommon lack of Cantes "A Compás", no solea, Seguiriyas, bulerías etc. In the cantes Libres (one would expect malagueñas being in the province of Málaga) the singing was reasonable but in the tientos, the compás, rather insecure. Later on, I seem to remember someone attempting bulerías, but it was totally out of compás and unacceptable. The chairman's accompaniment all evening (he was the only guitarist present apart from myself) was very poor, but of course they are just aficionados. It was disappointing nevertheless, to find the general level of expertise so low amongst such a devoted gathering of Andalucian Spaniards, the very people who should understand most about flamenco, especially as they take their Cante so seriously.

About two hours must have passed at least, when a gypsy who had been at the back with his wife and children, joined at his table by some non-gypsy friends, was called up to sing something. He took his seat on stage (cantaores traditionally sing seated when not in conjunction with dance) and proceeded to recite some verses of humour much to the surprise and delight of the audience. It was obvious that he neither took himself nor his performance too seriously, but more as fun, going on to sing some bulerías, perfectly in compás, with very good Aire and to a professional standard. It makes one wonder whether there could be something in the blood, but then I know nothing about his background, there could be a logical explanation. He left the stage having evidently enjoyed himself.

A little later, our chairman/guitarist was quite naturally eager to take a break, so just before a lady was about to give us a song, he called me up to relieve him. She looked a bit uneasy, not to say unhappy about the change, but after her rendition of a Media Granaína she went back to her table happy. I then accompanied another singer for yet more malagueñas, granaínas and tientos, who later invited me to play for him on the following Monday at another peña further down the coast. I accepted. Next up was a young man who sang some fandangos totally out of tune and after him someone else that wanted soleá. At last! Unfortunately he was out of compás most of the time, but the gypsy from before had appeared right up by the side of the stage and started to give some very nice palmas, so I admit that I played more with the palmas than for the cante where my undivided attention ought to have been. That was the most enjoyable part of the evening for me, except for the food and drink, of course.

On the Monday, I went to the other peña where I found the level of artistry lower still. I normally have maintained the theory that apart from the occasional exception, the only people who really understand flamenco are the artistes themselves; I think that maybe I should adjust that to "Professional artistes".

Back in Madrid for my third week of holiday, I went along to the Café de Chinitas one night for a drink and to say hello to old friends, finding some of the same artistes still there since the time I was working there myself. They all agreed that there was very little work about and that one had to accept whatever was offered; those in tablaos tend to be reluctant to go away on contracts abroad for fear of not getting back into a tablao on their return. I was told that quite a few singers had left Madrid to live back in their own provinces of Andalucía whilst the highly respected guitarist Pepe Maya ("Marote's" brother) has even taken his home and family permanently to México. On the other hand, the country's Ministry of Culture seems to be doing more than ever to promote flamenco and the television giving it more coverage than I have ever known.

I spent a very enjoyable day with my friend Victor Monge "Serranito" who I am very happy to see is now, thanks to good work done by his management, filling his calendar with a world-wide concert schedule, receiving the international exposure and acclaim he deserves. He explained to me how there is a type of "New Wave" flamenco being developed which breaks many of the traditional rules of the music and thus really would be incorrect to term "flamenco"; to use his own words "A new form of expression". This style of composition bases itself on the various flamenco toques and even maintains the compás, but has an unprecedented freedom of harmony, melody and syncopation. It is only natural, I suppose, that those flamenco guitarists with an abundance of musical creativity, need the extra room to expand. The result is that the art is being split up into two branches as in blues and jazz. Considering that in this new style, all the traditional rules (except that of compás) can be discarded, it made me wonder if this could mean that virtually any musician would be capable of composing it without having the years of experience I and many others claim to be indispensable to create "authentic" flamenco. If this is so, it has been done already many years back by artistes such as Miles Davis. Victor played me some of the new material he is working on at the moment and, at least in his case, I don't think this theory applies, instead we have more the "variations on a theme", by which I mean that to understand the complexities of the new music, one would need to understand the pattern from which it has been cut. You wouldn't be able to fully appreciate the variations unless you were previously familiar with the theme. The danger I see is that it could become a style comprehended only by those who intimately know the old style.

The good effect the "jazzy" harmonies are having is to attract the attention of a much wider sector of the general public, both in and out of Spain, the same being so through the inclusion of other instruments from a "Pop" set-up, to a complete orchestra. At Victor's home, I heard for the first time his latest record which does use full orchestration and knowing the usual problem, that the guitarist who has composed the pieces has no control over the orchestral arrangements which are taken care of by the record company, I asked him how closely if at all he was able to work with the arranger. On this L.P. he explained that the orchestral parts had been based on his own arrangements for three guitars, so there had been an adequate relationship.

The "New Wave" flamenco must have started about ten years ago; I was involved with it myself when I was living in Madrid, but then, although one could bend the rules to bring in new ideas, it was expected of you to retain the authentic flavour of the toques thus qualifying them to be accepted under the term flamenco. Now I have heard examples (by very proficient players) where the flavour is lost by extreme harmonic freedom, and whilst being pleasant music to the ears of the general public, it might as well have originated somewhere in South America.

There are those "flamencos" who, because of this, do not accept it and will continue to play in the traditional style. One such person and another very good friend of mine is Luis Pastor, with whom I also spent an enjoyable day at his home. His playing is renowned precisely for its flavour, giving the maximum amount of meaning to the music however few notes it may contain. We worked together for quite a few years as part as the Monge-Pastor-Davies trio, in tablao and also on tour in ballet companies. He had been working for the last number of years with the Spanish National Ballet, but decided to leave as they were doing very little work. Now he is a member of a group formed by Nina Corti, a Swiss girl (flamenco dancer) based in Zurich, who has done well by choosing only top quality guitarists and singers from Madrid to join her. She also makes use of flute, bass and violin. Luis is enjoying this work as he has the opportunity to compose music in his own very flamenco style and put it into practice on stage and record, seeing it appreciated by audiences in both Switzerland and Germany.

Authentic flamenco, I'm sure, will not die away and will always be available, as is "real" blues, if you know where to find it. So the "modern" flamenco that started about a decade ago bringing in new musical influences and instrumentation, and could have been seen as a passing fashion, is not only still with us, but has grown into a "new form of expression". I only hope it's not too long before a name is found for it, so that it can be categorised and differentiated so as not to be confused with "real" flamenco.

I found John Duarte's letter questioning points on flamenco, full of interesting themes for discussion. Not only would I have great pleasure in answering him, but I feel that the same questions must be in the minds of many others, or at least I hope so, as the issue of authenticity of music presented as Flamenco, needs to be understood even if only to help people to judge it for what it really is.

I think it fair to say that 'Spanish folk music' is not Flamenco, (will Reggae ever be termed 'English folk music' because an increasing number of white British artistes interpret it?).

Spanish gypsy folk music and some Andaluz (Arabic influenced) folk music, is Flamenco.

With reference to the acceptability of modern styles; for the hybridised product to remain 'true' to its description as 'Flamenco', it must first fall into one of the traditional categories such as Cantinas, Soleares, Bulerías, Siguiriyas, etc., and then retain its traditional flavour within the category. In the case mentioned of "Carlos Montoya and his nonsensical St. Louis Blues", he is trying to imitate the American Blues flavour "with a few strummings and fast runs introduced to make is recognisably 'Spanish' ". This is in no way Flamenco, not of course Blues. Next month alegrías.


1986

Ian Davies Flamenco Workshop
in Guitar International magazine
January/February 1986 - Cantinas - (PDF available here)
Alegrias, Romeras, Mirabrás, Caracoles

March/May/June/July 1986 - Fandangos - (PDF available here)
Fandangos de Huelva, Fandangos Libres, Verdiales, Rondeñas, Jaberas, Malagueñas, Granaina, Tarantas, Taranto, Cartageneras, Murcianas, Nineras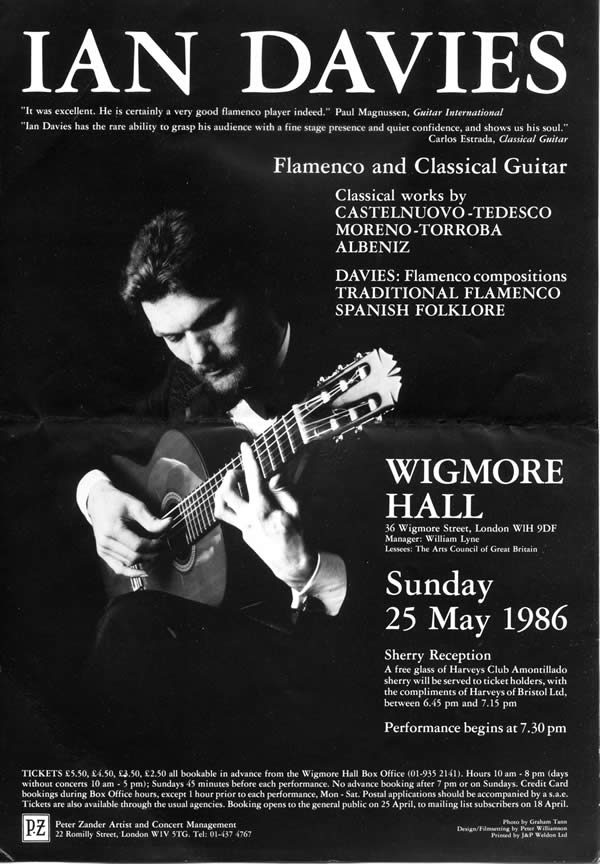 Leaflet for Ian Davies Wigmore Hall Recital 25 May 1986
Programme from the Wigmore Hall recital 25 May 1986 (PDF here)


Ian Davies Flamenco Workshop
in Guitar International magazine
September/December 1986 - Taranto solo - (PDF available here)


1987

July 1987 in Guitar International magazine
Ian Davies in conversation with John Duarte
Read the conversation in this PDF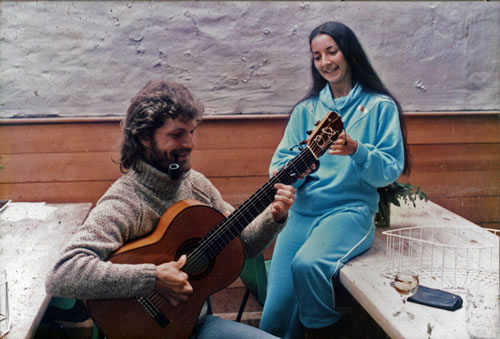 Ian Davies at a Prussia Cove Guitar Seminar in the late 1980s
Flamenco Tradicional series by Ian Davies

According to the list in the back of the first 2 books, it appears that Ian's original intention was to produce a series of 9 volumes:
Volume 1 Soleares por Arriba / Sevillanas
Volume 2 Bulerias por Medio / Granainas
Volume 3 Alegrias por Arriba / Verdiales
Volume 4 Seguiriyas / Tanguillos
Volume 5 Tientos / Malagueñas
Volume 6 Bulerias en La / Fandangos
Volume 7 Alegrias por Medio / Sevillanas 2
Volume 8 Farruca / Tarantas
Volume 9 Soleares por Medio / Peteneras


However, we have only seen the first 4 volumes and believe that the series was never completed. Please contact us if you are aware that any of the last 5 volumes were produced.
The introduction to each book gives Ian's approach to this student material:

I have designed this series on the Flamenco guitar to give the student a firm base on which to build up knowledge of its rhythm, melody, harmony, technique and expression. I have limited myself to the traditional style as I firmly believe this should be mastered before experimenting with the more modern influences so often heard nowadays. For this same reason, all of the material contained is suitable for use in the accompaniment of both singing and dancing.

On the accompanying cassette, after an initial tone giving the note A for tuning purposes, there are two versions of each piece. The first is at a slow tempo and played to a steady audible beat, which will be of great value to the student working only from the printed tablature. The second recorded version is at normal speed and may include variation in tempo for the purpose of expression. The bar lay-out of the printed music score and tablature correspond, thus enabling easy cross reference, also I have ensured that they are absolutely identical to both recordings so eliminating the need of any prior knowledge of Flamenco to produce an authentic and convincing complete Guitar solo faithful to the traditional rules inherent within this style of music.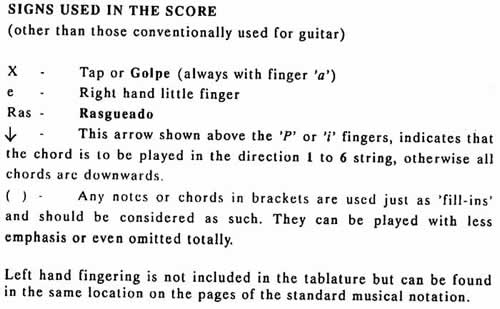 Symbols used by Ian Davies in his Flamenco Tradicional books




Volume 1 Soleares por Arriba / Sevillanas (published 1987)
Ian's explanation of the Soleares rhythm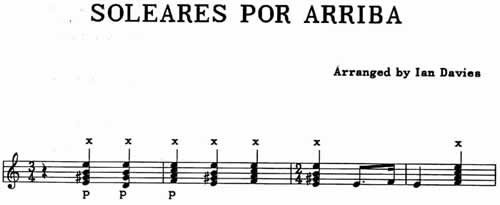 Opening of Ian's Soleares piece

Ian Davies plays Soleares slow speed (MP3 file, 8.4 MB Zipped)

Ian Davies plays Soleares normal speed (MP3 file, 4.5 MB Zipped)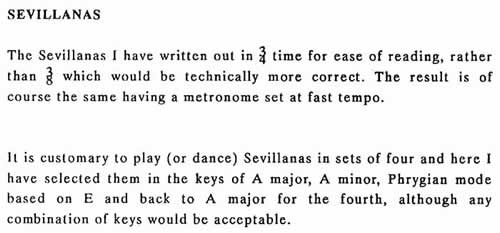 Introduction to Sevillanas





Opening of Ian's Sevillanas piece

Ian Davies plays Sevillanas slow speed (MP3 file, 6.7 MB Zipped)

Ian Davies plays Sevillanas normal speed (MP3 file, 3.8 MB Zipped)
Ian Davies Sevillanas in musical notation (PDF)

Ian Davies Sevillanas in tablature (PDF)


Volume 2 Bulerias por Medio / Granainas (published 1988)
Ian's explanation of the Bulerias rhythm



Opening of Ian's Bulerias piece



Ian Davies plays Bulerias slow speed (MP3 file, 6.0 MB Zipped)

Ian Davies plays Bulerias normal speed (MP3 file, 3.6 MB Zipped)



Ian Davies

Bulerias

in musical notation (PDF)

Ian Davies

Bulerias

in tablature (PDF)







Introduction to Granainas





Opening of Ian's Granainas piece



Ian Davies plays Granainas slow speed (MP3 file, 6.9 MB Zipped)

Ian Davies plays Granainas normal speed (MP3 file, 4.8 MB Zipped)

Ian Davies Granainas in musical notation (PDF)

Ian Davies Granainas in tablature (PDF)


Volume 3 Alegrias por Arriba / Verdiales (published 1989)

Ian's explanation of the Alegrias rhythm



Opening of Ian's Alegrias piece



Ian Davies plays Alegrias slow speed (MP3 file, 7.3 MB Zipped)

Ian Davies plays Alegrias normal speed (MP3 file, 5.0 MB Zipped)

Ian Davies Alegrias in musical notation (PDF)

Ian Davies Alegrias in tablature (PDF)





Introduction to Verdiales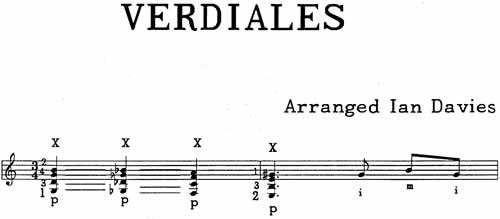 Opening of Ian's Verdiales piece



Ian Davies plays Verdiales slow speed (MP3 file, 6.4 MB Zipped)

Ian Davies plays Verdiales normal speed (MP3 file, 3.9 MB Zipped)




Volume 4 Seguiriyas / Tanguillos (published 1990)
Ian's explanation of the Seguiriyas rhythm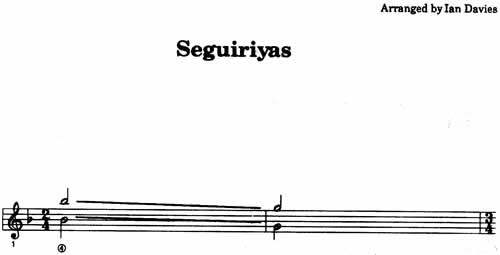 Opening of Ian's Seguiriyas piece


Ian Davies plays Seguiriyas slow speed (MP3 file, 7.1 MB Zipped)

Ian Davies plays Seguiriyas normal speed (MP3 file, 4.6 MB Zipped)


Ian Davies Seguiriyas in musical notation (PDF)

Ian Davies Seguiriyas in tablature (PDF)




Introduction to Tanguillos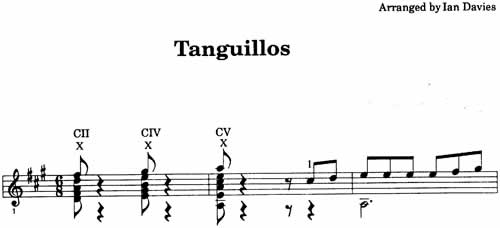 Opening of Ian's Tanguillos piece



Ian Davies plays Tanguillos slow speed (MP3 file, 6.0 MB Zipped)

Ian Davies plays Tanguillos normal speed (MP3 file, 3.6 MB Zipped)




Copyright © 2010-13 Southend Flamenco