Southend Flamenco was created for those who love this typically Spanish form of dance. There are now regular local classes for beginners to learn how to dance, and opportunities for the more experienced to practice their technique and have some fun rehearsing what they know.
A Facebook Group was set up on 3 August 2010 when 2 flamenco guitarists, Brian Reynolds and Mike Smith, decided that it was about time for Southend-on-Sea to have its own dedicated flamenco organisation. This part of Essex needed a venue for flamencos to meet, and Roydon Academy is that place.
Flamenco is such a passionate activity. Who cannot be enthusiastic about the women in their colourful dresses, the stamping of shoes on the ground, or the rhythmical hand clapping and guitar playing that accompanies the traditional dancing and singing.
Anybody interested in flamenco, and who wants to learn to perform this exciting art, should contact Steve Brown or Miguel de la Torre by phone or e-mail on this page.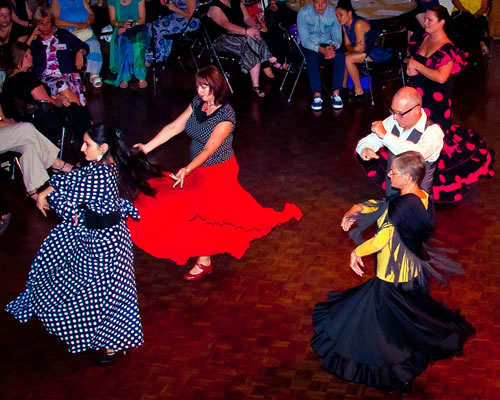 Southend Flamenco at Rochford Freight House 30 September 2011
photo courtesy Mark Brown
Visit us on Facebook


We are members of Southend Arts Council
Copyright © 2010-13 Southend Flamenco